Hey peeps! November 28, 2010 is the day everyone had been waited for. If you updated your firmware by accidentally before November 28, 2010. Your AT&T iPhone will not be unlocked!!! It means you can't use it with any other carriers. But today, you can unlock it now by changing the baseband!!!
Now, Im gonna teach you guys how to unlock your iPhone. Basically, downgrading firmware won't help. Cuz it wont change the baseband.
Read
this
! The official post by the iPhone Dev Team.
What you needed? Window OS Computer, AT&T Simcard (Terminated/Active), iPhone USB Cable, iPhone 3GS OLD BOOTROM.
Step 1: Check your iPhone bootrom. Click
here
if you dunno. If it is
iPhone 3GS – Old Bootrom 359.3
you need to use redsn0w to do the rest.
Step 2: Download
redsn0w
to Window.
Step 3: Download ipsw firmware 4.1
Step 4: Input the firmware 4.1 into redsn0w latest version as above link.
Step 5: Click NO for old bootrom. Check Cydia and iPad baseband.
Step 6: Sit tight and wait for it to do the rest.
After this your baseband will change to 06.15.00 and you can download the unlock code from CYDIA.
Add the source into cydia (Manage>Package>Edit>Add - Key In:
repo666.ultrasn0w.com)
Then download Ultrasnow from cydia to unlock!!!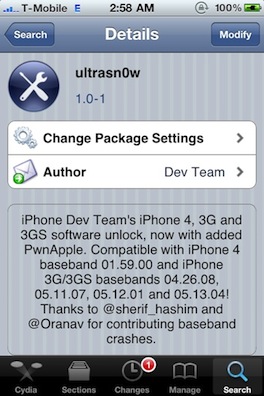 Before
After